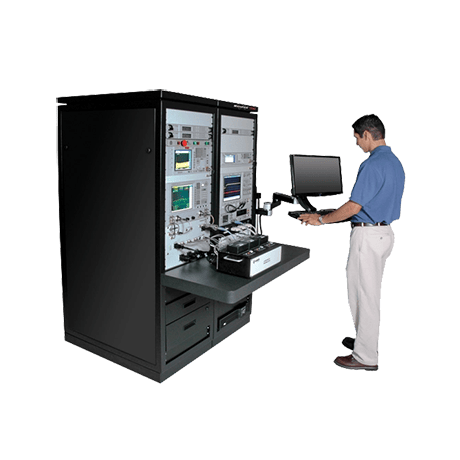 10 Series® is an extremely heavy-duty product line capable of handling 3,500 lbs. It is a configure-to-order product allowing users to select from a variety of standard components to build exactly what is required for their specific application. The entire product will ship as configured so there is no assembly required.
This flexible platform can be used as a stand-alone rack or can be ganged or joined together on site to create a console. Mix and match heights to get the desired layout. There are even wedge sections available to turn corners. Most importantly, save valuable rack space by putting your monitor and or keyboard on the side.
Common Uses
Most commonly used to create test stations, 10 Series® enclosures protect sensitive computer, data storage, and test equipment. It is available in a variety of heights, widths, and depths to meet the most stringent demands for automation and testing systems. Internal and external accessories such as shelves, fans, power, and cable management are available to complete the design.
Need a Cabinet Fast?
We selected the most common sizes and paired them with the most common accessories. We call them "Pre-Configured" cabinets. Call us and we can process your order immediately – 507-287-3535.
Need A Custom Enclosure for Your Testing Equipment?
We offer design services and solutions to meet the needs of any product specification.  Whether you need a cabinet to house your electronic measurement equipment or a heavy-duty cabinet for data storage, you can count on our expert resources and engineering capabilities to support any stage of your 10 Series project, from concept to production. Contact us with your requirement today.
Test Equipment Rack Features
Modular product offering – Rack or console
Fully welded, robust frame
Two EIA widths 19″ and 24″
Several heights to 48U
4 depths – Including 42 1/8″
Clean, seamless corner design
Standard or custom color options
Full line of options and accessories
Optional tie-down kit to comply with IBC seismic regulations
Modified or custom configurations
Ships fully assembled
Available in our Visio shape library
Expedited shipping available via the Platinum Delivery Program
---
Specifications
Thru-Hole mounting rails – Adjustable front to rear
10-32 tapped mounting rails optional
---
Color: Select from one of nine proprietary color options. Sample kits are available upon request.
Our products are finished in textured powder paint. Powder coating provides a durable high-quality finish
---
Load Rating
Static load rating: 3,500 lbs.
A cabinet has a static load when:

It is in its final, permanent, fully secured location, and
Its load is uniformly applied to the two sets of rack-mounting rails

Never move a cabinet with its maximum static load applied
---
Industry Standard
Configure-to-Order Options
The following options and accessories are available.
It's about saving time without compromise —
We have selected the most common sizes and paired them with the most common accessories to provide the ultimate solution – FAST!
10 Series – Pre-Configured In Stock
10 Series®
Includes: Frame with Two Pair of Thru-Hole Mounting Rails, Two Vented Side Panels with Slotted Latches, Vented Top Panel with Brushed Grommet Cable Access, Vented Rear Surface Door, One 10-Outlet 15 Amp Power Strip, Two Locking Casters, Two Non-Locking Casters.
| | |
| --- | --- |
| Part Number | Rack Units |
| IEXFR-367019-V | 40U |
| IEXFR-367819-V | 45U |
These sizes have a nominal depth of 36″
| | |
| --- | --- |
| Part Number | Rack Units |
| IEXFR-317019-V | 40U |
| IEXFR-317819-V | 45U |
These sizes have a nominal depth of 31″
10 Series® Compatible Parts
Select
Part Number
Description
Files
Read More
XFRS-261719-WT
425315
10 Series Slope Front Frame with Work Surface Provisions - 19" EIA HxWxD = 49.125" x 22.562" x 26.312" 10U Slope, 14U Front, 9U Top, 26U Rear Panel Openings
DWG
STP

Product Type _Frames - Slope Front with Work Surface Provisions

Requires Rear Attach Point No

Style Desk Height

Material Mix of 11-guage, 14-gauge, and 16-gauge Steel 14-gauge Steel - Frame 11-gauge Steel - Gussets 14-gauge Steel - Mounting Rails 16-gauge Steel - Side Struts

Finish Textured Powder Paint

EIA Width 19

Usable Space Front 14U

Usable Space Rear 26U

Usable Space Top 9U

Usable Space Bottom 15U

Usable Space Slope 10U

Rail to Rail Depth Min 25.125" (A)

Rail to Rail Depth Max 25.125" (A)

Optional Rail to Rail Depth Locations n/a

Overall Height 49.125"

Overall Width 22.562"

Overall Depth 26.312"

Weight Load Capacity 3, 500 lbs. Static Load

Requires Paint Yes (Select Color)

Requires Laminate No

UL Listed No

RoHS Compliant Yes

REACH Compliant Yes

EIA Standard EIA-310-D

XFRS-261724-WT
425319
10 Series Slope Front Frame with Work Surface Provisions - 24" EIA HxWxD = 49.125" x 27.562" x 26.312" 10U Slope, 14U Front, 9U Top, 26U Rear Panel Openings
STP

Files: STP

Product Type _Frames - Slope Front with Work Surface Provisions

Requires Rear Attach Point No

Style Desk Height

Material Mix of 11-guage, 14-gauge, and 16-gauge Steel 14-gauge Steel - Frame 11-gauge Steel - Gussets 14-gauge Steel - Mounting Rails 16-gauge Steel - Side Struts

Finish Textured Powder Paint

EIA Width 24

Usable Space Front 14U

Usable Space Rear 26U

Usable Space Top 9U

Usable Space Bottom 15U

Usable Space Slope 10U

Rail to Rail Depth Min 25.125" (A)

Rail to Rail Depth Max 25.125" (A)

Optional Rail to Rail Depth Locations n/a

Overall Height 49.125"

Overall Width 27.562"

Overall Depth 26.312"

Weight Load Capacity 3, 500 lbs. Static Load

Requires Paint Yes (Select Color)

Requires Laminate No

UL Listed No

RoHS Compliant Yes

REACH Compliant Yes

EIA Standard EIA-310-D

XFRS-262119-WT
425317
10 Series Slope Front Frame with Work Surface Provisions - 19" EIA HxWxD = 52.625" x 22.562" x 26.312" 12U Slope, 14U Front, 8U Top, 28U Rear Panel Openings
DWG
STP

Product Type _Frames - Slope Front with Work Surface Provisions

Requires Rear Attach Point No

Style Desk Height

Material Mix of 11-guage, 14-gauge, and 16-gauge Steel 14-gauge Steel - Frame 11-gauge Steel - Gussets 14-gauge Steel - Mounting Rails 16-gauge Steel - Side Struts

Finish Textured Powder Paint

EIA Width 19

Usable Space Front 14U

Usable Space Rear 28U

Usable Space Top 8U

Usable Space Bottom 15U

Usable Space Slope 12U

Rail to Rail Depth Min 25.125" (A)

Rail to Rail Depth Max 25.125" (A)

Optional Rail to Rail Depth Locations n/a

Overall Height 52.625"

Overall Width 22.562"

Overall Depth 26.312"

Weight Load Capacity 3, 500 lbs. Static Load

Requires Paint Yes (Select Color)

Requires Laminate No

UL Listed No

RoHS Compliant Yes

REACH Compliant Yes

EIA Standard EIA-310-D

XFRS-262124-WT
425321
10 Series Slope Front Frame with Work Surface Provisions - 24" EIA HxWxD = 52.625" x 27.562" x 26.312" 12U Slope, 14U Front, 8U Top, 28U Rear Panel Openings
STP

Files: STP

Product Type _Frames - Slope Front with Work Surface Provisions

Requires Rear Attach Point No

Style Desk Height

Material Mix of 11-guage, 14-gauge, and 16-gauge Steel 14-gauge Steel - Frame 11-gauge Steel - Gussets 14-gauge Steel - Mounting Rails 16-gauge Steel - Side Struts

Finish Textured Powder Paint

EIA Width 24

Usable Space Front 14U

Usable Space Rear 28U

Usable Space Top 8U

Usable Space Bottom 15U

Usable Space Slope 12U

Rail to Rail Depth Min 25.125" (A)

Rail to Rail Depth Max 25.125" (A)

Optional Rail to Rail Depth Locations n/a

Overall Height 52.625"

Overall Width 27.562"

Overall Depth 26.312"

Weight Load Capacity 3, 500 lbs. Static Load

Requires Paint Yes (Select Color)

Requires Laminate No

UL Listed No

RoHS Compliant Yes

REACH Compliant Yes

EIA Standard EIA-310-D

XFRS-311719-WT
425316
10 Series Slope Front Frame with Work Surface Provisions - 19" EIA HxWxD = 49.125" x 22.562" x 31.562" 10U Slope, 14U Front, 12U Top, 26U Rear Panel Openings
DWG
STP

Product Type _Frames - Slope Front with Work Surface Provisions

Requires Rear Attach Point No

Style Desk Height

Material Mix of 11-guage, 14-gauge, and 16-gauge Steel 14-gauge Steel - Frame 11-gauge Steel - Gussets 14-gauge Steel - Mounting Rails 16-gauge Steel - Side Struts

Finish Textured Powder Paint

EIA Width 19

Usable Space Front 14U

Usable Space Rear 26U

Usable Space Top 12U

Usable Space Bottom 18U

Usable Space Slope 10U

Rail to Rail Depth Min 25.125" (A)

Rail to Rail Depth Max 30.375" (B)

Optional Rail to Rail Depth Locations n/a

Overall Height 49.125"

Overall Width 22.562"

Overall Depth 31.562"

Weight Load Capacity 3, 500 lbs. Static Load

Requires Paint Yes (Select Color)

Requires Laminate No

UL Listed No

RoHS Compliant Yes

REACH Compliant Yes

EIA Standard EIA-310-D

XFRS-311724-WT
425320
10 Series Slope Front Frame with Work Surface Provisions - 24" EIA HxWxD = 49.125" x 27.562" x 31.562" 10U Slope, 14U Front, 12U Top, 26U Rear Panel Openings
STP

Files: STP

Product Type _Frames - Slope Front with Work Surface Provisions

Requires Rear Attach Point No

Style Desk Height

Material Mix of 11-guage, 14-gauge, and 16-gauge Steel 14-gauge Steel - Frame 11-gauge Steel - Gussets 14-gauge Steel - Mounting Rails 16-gauge Steel - Side Struts

Finish Textured Powder Paint

EIA Width 24

Usable Space Front 14U

Usable Space Rear 26U

Usable Space Top 12U

Usable Space Bottom 18U

Usable Space Slope 10U

Rail to Rail Depth Min 25.125" (A)

Rail to Rail Depth Max 30.375" (B)

Optional Rail to Rail Depth Locations n/a

Overall Height 49.125"

Overall Width 27.562"

Overall Depth 31.562"

Weight Load Capacity 3, 500 lbs. Static Load

Requires Paint Yes (Select Color)

Requires Laminate No

UL Listed No

RoHS Compliant Yes

REACH Compliant Yes

EIA Standard EIA-310-D

XFRS-312119-WT
425318
10 Series Slope Front Frame with Work Surface Provisions - 19" EIA HxWxD = 52.625" x 22.562" x 31.562" 12U Slope, 14U Front, 11U Top, 28U Rear Panel Openings
DWG
STP

Product Type _Frames - Slope Front with Work Surface Provisions

Requires Rear Attach Point No

Style Desk Height

Material Mix of 11-guage, 14-gauge, and 16-gauge Steel 14-gauge Steel - Frame 11-gauge Steel - Gussets 14-gauge Steel - Mounting Rails 16-gauge Steel - Side Struts

Finish Textured Powder Paint

EIA Width 19

Usable Space Front 14U

Usable Space Rear 28U

Usable Space Top 11U

Usable Space Bottom 18U

Usable Space Slope 12U

Rail to Rail Depth Min 25.125" (A)

Rail to Rail Depth Max 30.375" (B)

Optional Rail to Rail Depth Locations n/a

Overall Height 52.625"

Overall Width 22.562"

Overall Depth 31.562"

Weight Load Capacity 3, 500 lbs. Static Load

Requires Paint Yes (Select Color)

Requires Laminate No

UL Listed No

RoHS Compliant Yes

REACH Compliant Yes

EIA Standard EIA-310-D

XFRS-312124-WT
425322
10 Series Slope Front Frame with Work Surface Provisions - 24" EIA HxWxD = 52.625" x 27.562" x 31.562" 12U Slope, 14U Front, 11U Top, 28U Rear Panel Openings
STP

Files: STP

Product Type _Frames - Slope Front with Work Surface Provisions

Requires Rear Attach Point No

Style Desk Height

Material Mix of 11-guage, 14-gauge, and 16-gauge Steel 14-gauge Steel - Frame 11-gauge Steel - Gussets 14-gauge Steel - Mounting Rails 16-gauge Steel - Side Struts

Finish Textured Powder Paint

EIA Width 24

Usable Space Front 14U

Usable Space Rear 28U

Usable Space Top 11U

Usable Space Bottom 18U

Usable Space Slope 12U

Rail to Rail Depth Min 25.125" (A)

Rail to Rail Depth Max 30.375" (B)

Optional Rail to Rail Depth Locations n/a

Overall Height 52.625"

Overall Width 27.562"

Overall Depth 31.562"

Weight Load Capacity 3, 500 lbs. Static Load

Requires Paint Yes (Select Color)

Requires Laminate No

UL Listed No

RoHS Compliant Yes

REACH Compliant Yes

EIA Standard EIA-310-D